A History of St. Mary's Church Nairn
It was at the beginning of September 1861 that Fr Donald MacKenzie set off from Stratherrick to Nairn. Fr MacKenzie had been born in Braemar in 1821 and he was already 25 years of age when he entered Blairs, where he studied for two years before going on to Rome. He was ordained in Rome in 1851, after his first year of theology and after completing three more years he returned to Scotland. He then moved to Fort Augustus (the Abbey had not yet come into being) and then working up the east side of Loch Ness he had built the Church and house at Stratherrick. He says in a letter to Bishop Kyle, written on the day he was leaving Stratherrick (he was a prolific letter writer and not even all the hassle of a move could apparently stop him putting pen to paper), that some sort of house had been engaged for him at Nairn.
There was a growing need for a priest at Nairn, as a small congregation had begun to form in the town during the 1850's. The nucleus of this congregation was a group of Barra folk who had been forced to move from their island home, which the MacNeils had had to sell in 1838 in order to pay their creditors. The purchaser was John Gordon of Cluny in Aberdeenshire and he also acquired South Uist and Benbecula. As a landlord he was notorious for his greed for money; there were those who said when he died in 1858 that he was "the richest commoner in Scotland". He was determined to make his island purchases a profitable concern; at one time there was a plan to turn Barra into a convict settlement and sell it off as such to the government and although that never happened he was still evicting his islanders by the thousand and The Scotsman commented how these "ragged, starving islanders trailed into the mainland towns".
Bain in his History of Nairnshire makes more or less the same point when he describes the congregation, whom Fr MacKenzie came to serve, as purely Gaelic speaking and exceedingly poor, but the men found work as labourers and the women and children made a living by cutting and selling firewood.
A week after his arrival in the town, Fr MacKenzie writes from Rose Street that he had a house there and that the parlour was 13-foot square, but was too small for the number of people who assembled for Mass and half of them were outside and he himself was almost suffocated. They could not open the window as there was a pigsty underneath!
By the end of the month he had found Catholics in Petty and in Forres and he had 60 people at Mass. He writes: "Nairn will be an increasing mission" and in the same letter he pays a great compliment to the town, for he says "at least since I have been a priest in Scotland, I have never experienced the same amount of civility as at Nairn". By the end of that first year he was very well aware that somewhere bigger had to be acquired and he speaks of a house that was to be auctioned in January 1862, which he expected to go for £400 or £460 with the furniture, but in the end it went for £566. But by March his endeavours and prayers were being answered and he tells Bishop Kyle in a letter that Mr Stewart, of Inverness, was trying to get a feu from Mr Gregor, of Elgin. The first moves were made in Mr Stewart's own name, but later the buyer was identified to Mr Gregor "as our mutual friend Dr Kyle".
In that letter he encloses the sketch of the feu which he describes as the best of the lot, bounded by "the turnpike road to Inverness and the quarry road" (the present Seabank Road). He also points out that it had the great advantage of being only 300 yards from the railway station.
The railway must have been a novelty to Fr MacKenzie; there was no such thing in his previous areas of ministry and in point of fact the railway has never penetrated to them, and even for the townsfolk of Nairn it was something new because the Inverness to Nairn railway had opened only in 1855, and then three years later the Nairn to Keith line opened. At Keith the traveller connected with the "Great North of Scotland Railway" to Aberdeen and from there to the south.
One can imagine the buzz among the Nairnites that they could now travel so much further afield and with much less inconvenience.
Having acquired the land, he is not slow in taking the bull by the horns, for he writes to the Bishop: "From the position of the ground, Your Lordship will see how to plan the buildings. I have ordered, according to your desire, to have 60 feet of frontage towards the Nairn and Inverness road." There were clearly two plans afoot, one with the Church sideways on to the road and the other with its end to the road and it was this one that the priest favoured in order to leave the western part of the feu for later building.
It was all right having plans, but in the ensuing months the question of money and financing the project raises its ugly head and his letters on the financial aspect are at times quite testy. He insists that he himself will not bear the responsibility of the expenses, but that he will work hard to raise the money needed for the building.
Early in his stay in Nairn, he had been telling the people, poor though they were, that they had a need to support him financially. There is no evidence of an outstanding benefactor of the building, though at one stage £20 was collected by Lady Lovat and he also received money from Leslie of Balquain. Now and again he is able to send sums of money to the Bishop, noted down to the last penny, but a penny was quite valuable in the early 1860's.
Fr MacKenzie sent out appeals to the Catholics of England and Ireland, and after Easter in 1863 he set out to visit Dufftown, Glenlivet, Tomintoul, Aberdeen, Buckie and the Enzie to appeal for money and hoped to be able to accomplish those journeys within a fortnight. Meanwhile, his lease on the Rose Street property had run out and he had moved to a property in Cumming Street and it was to there that Bishop Kyle came in September. Fr MacKenzie is able by this time to give the Bishop an estimate for the church building of £480, that is for the Church without a house for the priest, which could be delayed.
Towards the end of that year perhaps Bishop Kyle demurred, so Fr MacKenzie writes a very strong letter insisting on his desire to work for the Mission and to beg from door to door, but neither ready nor willing to undertake the building of a house without the means of paying the builders.
But all seems to have been resolved quickly and amicably because he writes on the 2nd February, 1864, that building is now progressing. He comments on how quietly the town is taking it: "the people are making a joke of it, that the only two people who were loudest in their denunciation of Popery when I came to Nairn are our mason and carpenter". It was a bad winter and spring and this caused difficulties with the building so that the workmen could only be busy for a few hours in the middle of the day. This delay caused him problems with the lease at Cumming Street; it ran out in May (probably Whit Sunday) and for three weeks the only Mass was at Fort George and he was also able to sleep there overnight, using a room in the town to store his furniture.
On June 20th, 1864, he gives the address of "Seabank" and writes to the Bishop: "I had Mass in the new chapel yesterday. It is now all finished but for the seats and the altar".
On August 23rd he himself gives it a blessing and asks the Bishop to come for a more solemn blessing. Sadly, this was never carried out, probably due to Bishop Kyle's advancing age and failing health. In September, Father MacKenzie set off on another begging tour, this time to the West Highlands, the Braes of Lochaber, Fort William Moidart and Glenfinnan and he tells us after his return that he had very wet and unpleasant weather.
In the entry for Nairn in the Scottish Catholic Directory for the following year, 1865, we read: "The Priest of this mission which was established in 1861, tenders his most grateful thanks to all who assisted him with their charity in the erection of this chapel and he is happy to inform them that it is nearly free of debt".
This was the answer to his plea three years before that anyone who can spare a mite will send it to the clergyman to enable him to build some kind of chapel and house. He makes no mention in his letters during the intervening three years of any extraordinarily large donation, so it can be truly said that Nairn was built with the pennies of the poor, because all these other places to which he went begging were themselves struggling, and it is a salutary lesson to us to see how they gave out of their own poverty to help a new Mission and community to come into being. In 1867 Fr MacKenzie left Nairn and was appointed to Beauly where he stayed until his death in 1886.
He was followed in Nairn by Fr John Cameron and Nairn was his first charge after his ordination. His was a quiet and uneventful missionary activity and he stayed in Nairn until 1873 but he lived on for a good many year after that and became one of the first Canons of the Aberdeen Chapter at its erection. He was followed in Nairn by Fr Alexander Forbes but he stayed only for a year and then went to South Uist to work at Bronish and Daliburgh.
Then again Nairn received a young priest, just newly ordained, Fr John Chisholm. Though extremely hard working, he was far from strong and he had to go to Bournemouth to recuperate after an illness, but problems with his lungs continued and he died in Nairn in 1881 at the age of 34 and in the seventh year of his priesthood. He is buried in Eskdale.
His successor was Fr Archibald Chisholm who was Parish Priest until 1891 and it was during his time that a school was opened in January 1886 by nuns of the Order of Servants of the Sacred Heart. The school was situated on the opposite side of the Inverness Road, between what is now Wellington Road and Waverley Road in the building which has a kind of shop window in its frontage.
In 1891 he was succeeded by Fr Alexander Bissett. He could well be called the second founder of the parish; he stayed as parish priest until 1912 when age forced him to retire, but even after that he stayed on in the town until his death in 1915. He was very fond of the town and in his later years, when he was offered a charge more in keeping with his status he begged to be allowed to stay on. In 1904 he enlarged the church by building the present Sanctuary and to gather funds for that, as well as for the rebuilding of Blairs, he travelled extensively in the United States and Canada. On his retirement in 1912 he was succeeded by Fr John Roger who seemed to all to be in very good health and extremely robust, but in 1920 he suddenly became very ill and was forced into early retirement at Huntly, his native place.
After his death, Benedictines administered the parish for a couple of years until Fr James Anton arrived in 1922. He was a priest with great order in his life but very assiduous as a pastor and a good preacher. It was during his time as parish priest that Forres became a separate parish.
From Fr MacKenzie's time, the parish of Nairn had included Ardersier, previously called Campbeltown (where even back in the 1860's there were about twenty Catholics) and the pastoral care of the Catholic soldiers at Fort George right through to the far east side of Forres, where it met with the Parish of Elgin. In 1927 the separate parish of Forres was founded.
In 1930 Fr Anton moved to Dufftown and Fr William Manders came to Nairn. Though he was born in Wales, he had connections with the north through his mother. He was a nephew of Canon Cameron, of Beauly, and a cousin of Fr Andrew Cameron. He had spent the previous 12 years in Stratherrick where he developed a great capacity for reading, but the more populous area of Nairn gave greater scope to his many abilities, especially in drama and cricket. Now Nairnites have a great habit of giving people nicknames and this good priest was called…"quack quack" because of his all too frequent score at the wicket. It was he who built the present presbytery, thus releasing the former house for use as a parish hall, and the foresight of Fr MacKenzie with his planned layout of the feu back in 1863 had made this possible.
Confirmation – September 1934
There was a change of priests in 1938 and Fr Alexander Sullivan arrived in Nairn to begin his association with the parish and town which covered nearly thirty years. He could well be called the third founder of the parish. During his first spell as Parish Priest he set to and completely reorganised the church.
The Church and the altar before Fr. Sullivan's Changes in his first period as Parish Priest (below left). The altar is now in the Church in Stratherrick (below Right).
He put in a marble altar in place of the one which had been there since Canon Bisset's time and then acquired new benches for the people. All this was done over the wartime period when materials were very scarce. In recent years he told the ladies who were cleaning the church his story about the acquisition of the pews. He had heard that some timber had been cut for the war effort but that it had been declared either superfluous or sub-standard so he set off forthwith and got it at a good price. All this made a vast improvement in the church. He stayed until the autumn of 1954 when he was replaced by Fr Duncan Stone, who stayed for seven years to be succeeded by Fr Wilfred Davis. He was Parish Priest for ten years but suffered from increasing ill-health. It was this which forced him to retire in the autumn of 1972 and he died in the spring of the next year in Inverness.
The annual Accounts of the parish
Congregation – 214
School Children – 43
presented for 1962
Baptisms – 10
Marriages – 4
Collections
£
952.10.1d
House
£
372.0.0d
Endowments
£
20. 0.0d
Church
£
172.0.0d
Rent Hall
£
30. 0.0d
Repairs
£
116.0.0d
Army Salary
£
140. 0.0d
Rates
£
33.0.0d
£
1,142.10.1d
Salary
£
104.0.0d
Wages
£
156.0.0d
Nat. Insurance
£
36.0.0d
Travel
£
48.0.0d
Expenditure
£
1,080.0.0d
Priests who attended St. Mary's Centenary 1964
Confirmation – July 1966
Fr Wilfred Davis was succeeded by Fr John Cunningham, but he came as an already sick man. However, he was a great musician and one still finds in cupboards and boxes various sets of music which he was using in order to bring the congregation into the new liturgical spirit brought about by the Second Vatican Council. He also did a great deal of work refurbishing the chapel house, but diabetes and a heart complaint took their toll and he died in the summer of 1977, a comparatively young priest at the age of 46.
It was then that Canon Sullivan returned to Nairn, having spent the intervening years since his departure at St Mary's, Inverness. But it was a very different Nairn to which he returned. The oil-construction yard for off-shore work had opened and the town had expanded with the building of new houses, both private and council owned, to accommodate the work force which had come to settle here. This all had an effect on the parish which increased nearly three-fold. For example, one can see from the baptismal registers that the number of infant baptisms in a year had more than doubled. But, if he was a bit daunted by the change in size of his parish, Canon Sullivan did not show it. Ironically, he had to dismantle the altar he had installed during his previous spell in Nairn in order to bring the altar forward so the Mass could be celebrated facing the people. He used the marble of the older altar but had it reduced in size in order to fit its new position and the marble left over was used for the tabernacle pedestal.
The whole sanctuary was redesigned and visitors often comment on how dignified it looks.
Canon Sullivan celebrated his Golden Jubilee in the priesthood at Nairn in 1979. Though increasing in age and infirmity he always wanted to keep his hand on the tiller of the parish and wanted to die in harness as Parish Priest. He took ill in November 1985 and though he was in a nursing home he insisted on coming to Midnight Mass at Christmas to greet the people but died in January the following year.
Fr John MacMillan was appointed acting parish priest in November 1985. He returned to his native charge at Eriskay before Fr Gerard Hassay, SJ, arrived in early June 1986.
Fr Hassay (53), had spent the previous 20 years as chaplain at Manchester University (1966) and Aberdeen (1977). He remained until 1999 when he exchanged parishes with Fr Francis Barnett, SJ, of the Sacred Heart Church in Edinburgh. Fr Hassay celebrated his Golden Jubilee in the priesthood at St Aloysius Church in Glasgow on 30th July 2015. Two parishioners from St Mary's were invited to this celebration.
In 2007, Fr Barnett concelebrated in the first priestly ordination to take place in St Mary's when Deacon Damian Martell, from Forres, was ordained by the Rt. Rev Peter Moran, Bishop of Aberdeen on July 7.
Just a few weeks after his 80th birthday, Fr Barnett's 50 years in the priesthood was celebrated in 2013 with a social evening in the Nairn Dunbar Golf Club where he received numerous gifts from parishioners, including 92-year-old Caroline Kelly, St Mary's oldest parishioner.
Among the clergy who attended were the Bishop of Aberdeen, the Rt Rev Hugh Gilbert; retired Bishop of Aberdeen, the Rt Rev Peter Moran, and Fr David Kaye, SJ, of St Lawrence's Church, Dingwall. The Rev Steven Manders, of the United Reformed Church in Nairn, presented Fr Barnett with a gift on behalf of all the Nairn churches.
Fr Barnett joined the Society of Jesus in London, aged 17, where he studied for 13 years before being ordained on August 6, 1963, at Holy Cross Church in Crosshill, Glasgow, where he grew up.
In the early 1980s he was the head at Wimbledon College. Before that, he had taught at St Francis Xavier's College for four years before returning to Scotland to spend nine years at St Aloysius' College in Glasgow.
In 2014 St Margaret's in Forres transferred to the care of Fr. Colin Stewart in Elgin. Fr Barnett remained as parish priest of Nairn.
In May of 2017, aged 83, Fr Barnett retired, having served for 19 years at St Mary's. His successor was Fr Damian Martell (48).
His induction took place on August 5, 2017. The service was led by Bishop Hugh, who was assisted by Deacon Cameron Macdonald, from Nairn.
Before coming to Nairn, Fr Damian had been assisting Fr Stewart in Elgin. Previous to that he had spent a number of years as a missionary with the Kiltegan Fathers (St Patrick's Missionary Society) in Kenya.
Shortly after his arrival Fr Damian celebrated his 10th anniversary of Holy Orders in the company of clergy from across the Highland Deanery, Moray and parishioners from Nairn, Forres and Inverness areas. A number of Fr Damian's family, including his mother and his two sisters, attended as well as ministers from other church denominations in Nairn and district. Among the Catholic clergy who concelebrated Mass were: Highland Dean Rev James Bell (Inverness), Fr Andrzej Niski (Inverness), Fr Andrzej Harden SJ (Fort Augustus and Stratherrick), Fr Domenico Zanre (Culloden), Fr Mark Savage OSB, from Pluscarden Abbey. Seminarian Dominic Nwaigwe (Inverness) was also on the altar.
In 2019, St Mary's old Norwich organ was replaced with a brand new Chorum S-40 organ. It was paid for by parishioner Ann Stuart, in memory of her two sisters Gertrude and Frances, who were also parishioners for a number of years. A second donation from another parishioner paid for the organ's installation. The Norwich organ had been donated by parishioner Miss Katherine Charlotte Wallace, one of five children to Colonel and Mrs Charles Tennant Wallace. The organ was installed in the church a few months after the start of Canon Sullivan's second spell as parish priest in 1977.
Fr Damian also oversaw the extensive refurbishment of the church hall, which at one time was the priest's house. The work benefited from a grant from the local Davidson Trust. And in July 2021, Bishop Hugh led Mass to celebrate the official opening of the building, which was re-named the St Mary MacKillop Hall.
The newly refurbished hall now includes a small room upstairs dedicated to St Mary MacKillop, which can be used for quiet prayer and reflection and for information on the saint. Mary MacKillop — Australia's first saint — journeyed from Stratherrick to Inverness before spending a day (December 15, 1873) and a night at St Mary's as a guest of Fr Alexander Forbes. The next day she departed for Keith and then on to Aberdeen.
In the summer of 2020, the Marian statue — with child Jesus and angel — was erected at the main entrance to the church to kindle peace and hope during Covid-19. The plaque on the front of the plinth is inscribed with the words: "Erected in the Year of Pandemic 2020. We fly unto your Protection." The words, Fr Damian said, reflected Pope Francis's prayer, which was said every Sunday at Mass for the protection of the whole world from the pandemic. The statue was blessed by Fr Damian in a short ceremony (held in heavy rain) on September 8 — the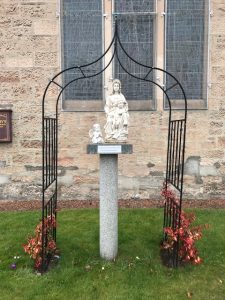 Feast of the Nativity of the Blessed Virgin Mary. Interestingly, the granite pillar on which the statue sits adds a poignant historic link the church has with the Stratherrick area. The statue was purchased after the church received a donation from a parishioner who had asked if a Marian statue could be erected. The pillar arrived from the former Fort Augustus Abbey, a Benedictine monastery from the late 19th century (1880) until it closed as a school in 1993. The pillar had at one time been used to support an altar at one of the side chapels at the abbey. And, for reasons unknown, it had somehow found its way into a field about 10 miles from the abbey! It had apparently rolled down to the bottom of a hill and was covered in weeds and had to be dug out. It was quite an adventure for those involved, given its phenomenal weight to get it back to Nairn.
Fr Damian's time at Nairn ended in June 2022 when he departed for London with the St Patrick's Missionary Society, ahead of returning to Kenya.
During his time at St Mary's he was able to call on support from Fr Cameron Macdonald for special services, holidays, etc. (As a deacon, Rev Cameron concelebrated at Fr Damian's induction.) Rev Cameron was ordained a priest at a ceremony at St Columba's Church, Edinburgh, on December 16, 2017. The service was led by the Archbishop of St Andrews and Edinburgh, Leo Cushley, in the presence of Mgr Keith Newton, Ordinary of the Personal Ordinariate of Our Lady of Walsingham.( A number of years previous, Fr Macdonald was priest at St Columba's Episcopal Church in Nairn).
Fr Damian was replaced at Nairn by the parish priest at St Columba's, Culloden (and vicar general of the diocese), Fr Domenico Zanre, who continues to serve both parishes. Fr Zanre, originally from Peterhead, was appointed parish priest at the country's newest catholic church at Culloden in 2015. Before that he was assistant priest at St. Mary's, Inverness; priest in charge at Thurso and Wick; then in Beauly. He served as the Papal Nuncio in London.
Fr Cameron continues to provide assistance to Fr Domenico along with Fr John Allan, formerly of St Ninian's, Inverness, who took up residency in the vacant St Mary's parish house at the end of 2022.
St. Mary's Priests – From June 1864
1864 – 1867 Fr. Donald MacKenzie
1867 – 1873 Fr. John Cameron
1873 – 1874 Fr. Alexander Forbes
1874 – 1881 Fr. John Chisholm
1881 – 1891 Fr. Archibald Chisholm
1891 – 1912 Fr. Alexander Bissett
1912 – 1920 Fr. John Roger
1920 – 1922 Parish admininstered by Benedictines
1922 – 1930 Fr. James Anton
1930 – 1938 Fr. William Manders
1938 – 1954 Fr. Alexander Sullivan
1954 – 1961 Fr. Duncan Stone
1962 – 1972 Fr. Wilfred Davis
1972 – 1977 Fr. John Cunningham
1977 – 1985 Canon Alexander Sullivan
1985 – 1986 Fr. John MacMillan
1986 – 1998 Fr. Gerard Hassay
1998 – Fr. Francis Barnett SJ
The Jubilee Stained Glass Window
It was considered fitting to celebrate the 125th Anniversary of the opening of the church by installing a stained glass window.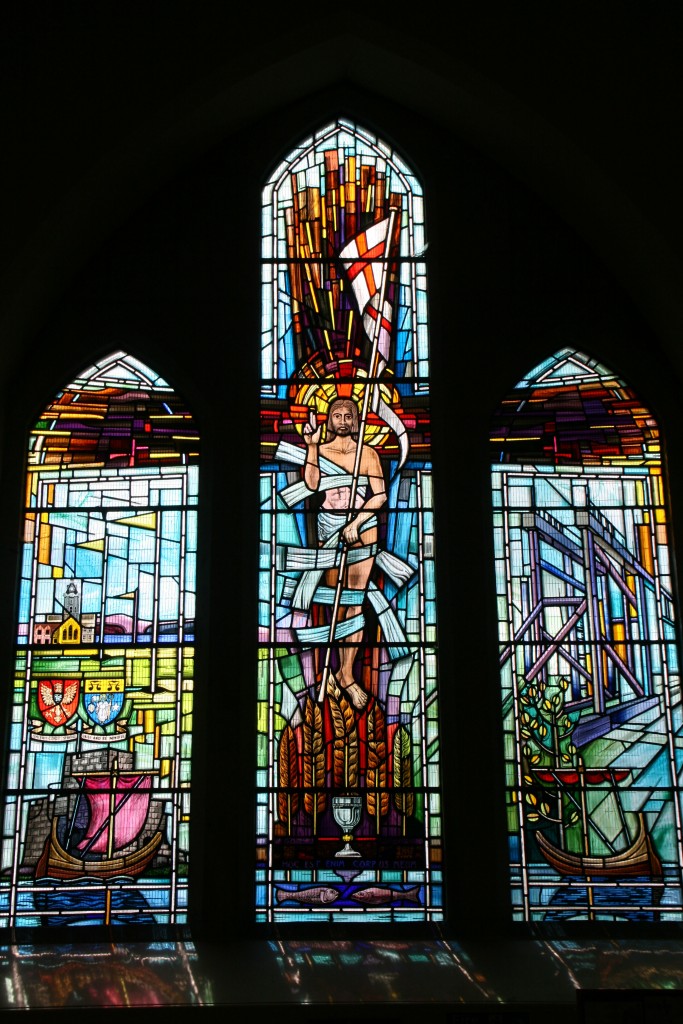 The Central piece of the window is a figure of the Risen Christ in power. As St Paul says in his letter to the Philippians – "to know the power of his resurrection" or the phrase in the Breastplate of St Patrick – "his bursting from the spiced tomb".
Surrounding Christ are symbolic scenes from the life and activity of the parish and town of Nairn.
On the left is the golf course backed by the waters of the Moray Firth and the Sutors of Cromarty and with them the Town House and Church of St Mary's.
Bottom left, we have Kisimul Castle of Barra and the small boat bringing that group of the original parishioners away to their new life. Beneath the feet of Christ in the centre panel is a sheaf of wheat representing the farming activity of the area and also the wheat of the Eucharistic Bread through which the risen and ascended Christ is present to his Church.
On the right, the tree represents the activity of forestry in the district and also reminds us of the biblical idea of the tree of life, the just man who flourishes by the side of the stream of living water, God's Grace.
The earlier fishing activity of the town is seen in the fishing boat and fish beside it, the fish, too, being the cryptic sign of the Christian in the catacomb days – the Greek ichthus, its letter symbolising "Jesus Christ", Son of God, Saviour.
Finally, ascending right, we see the contemporary source of employment in Nairn, the oil-construction activity at the end of the west bay.
The Risen Lord is Lord of all, our recreation, our activity, our lives
Further detail on the window is available from the poster below:
Reproduced by kind permission of Fr. Gerard Hassay. Reworked and updated by John Dolan